Accommodation in Gdańsk
Comfortable rooms with breakfast in a quiet area near Gdańsk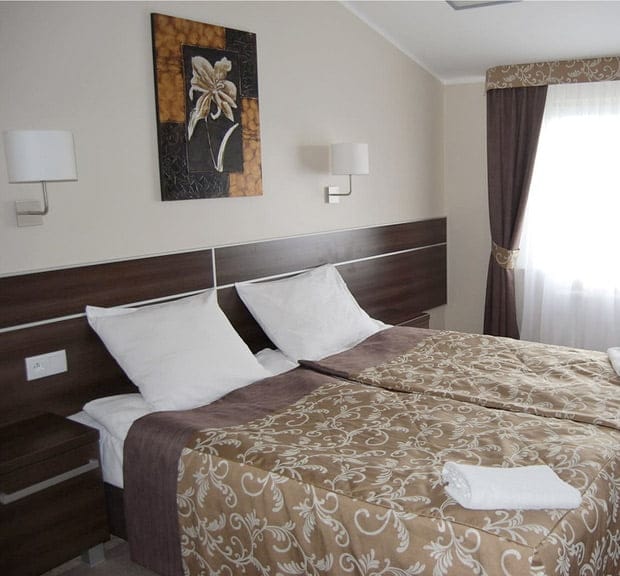 Accommodation with a view of Gdańsk
Our hotel is located less than 8 kilometers from the center of Gdańsk, near the main routes leading to Tri-City and to the south of Poland. We offer spacious single, double, triple and quadruple rooms as well as air-conditioned Deluxe apartments, which can accommodate up to 36 people. In order to ensure the highest possible comfort for our guests, all rooms are located on the first floor of the building. Deluxe rooms are located in a separate part of the building and guarantee maximum privacy.
Comfort, silence and total convenience
We offer accommodation for employees, families and couples. The rooms have modern and functional furnishings designed to meet the expectations of customers arriving with families, as well as people on business trips.
Smoking is prohibited in the rooms, but we have specially designated smoking area for our guests, which is located on the sunny terrace facing the garden of our facility. Some rooms have a balcony, which is a convenience for our smoking guests.
Accommodation with breakfast
We invite you to enjoy our delicious breakfasts. Breakfast at the Złoty Staw is a rich buffet full of a variety of flavors. Properly composed, they will give you strength and energy for the entire day.
Equipment and facilities
Our hotel rooms have modern and functional equipment that will meet your expectations.
A welcome set of coffee and tea will await you.
Fast WIFI internet access
LCD TV
Satellite television / Netflix
Coffee making facilities
Double bed
* Balcony
Space for smoking guests
Hotel toiletries